Vulcan Earth Anchors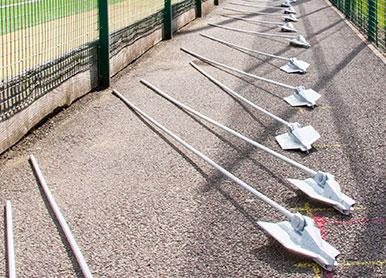 The Vulcan Earth Anchor range was designed by Anchor Systems (International) Ltd as a simple, reliable and cost-effective ground anchoring solution. These well proven earth anchors provide immediate loading capacities of 1-450kN in most displaceable ground and can be installed easily and quickly in an extensive number of applications across many sectors. The Vulcan Earth Anchor comes with many benefits over alternative systems including:
List of Benefits
Larger surface area means that Vulcan anchors can achieve greater capacity than others on the market
Rapid installation times
Largest range of anchors in the UK ranging from 1-450kN
Anchor systems are the only company to make anchors in stainless steel
Durability and quality (up to 120+ years)
Low environmental impact
Cost effective
Competitive lead times and high quantities of stock available
Bespoke design available
Made in Britain
Large range of accessories and finish plates available
The concept involves a specially designed anchor with a large surface area that is linked to a high yield tie bar or tendon. The anchor can then can be driven into the ground to the required depth, have a tensile load applied to the tendon which then, in turn, rotates the anchor, allowing the exposed end to be terminated and locked into position with any one of our large range of accessories and plates depending on the application and your requirements.
The Vulcan Earth Anchors can easily and rapidly be installed with either hand held equipment or machine, depending on the anchor size and ground conditions. The installation can be carried out with little or no disruption to the structure or surrounding soil or ground you are retaining, stabilising or tethering.
Anchor Systems offer a full range of services to help you, including advice, design, equipment hire, site testing & supervision, training and aftercare. We have a great team who are very experienced and knowledgeable in all aspects of ground anchoring and will always be happy to help and make sure you receive the most suitable anchoring solution for your project along with the best possible service. We also offer bespoke solutions and designs that are specifically tailored to your specific requirements.
The Vulcan Earth Anchors are extensively used across many sectors and environments. The anchor can be combined with a number of accessories, tendons and plates to form systems that can be utilised in many different applications and solutions.