Geotextiles
Steepness, gravitational stress, poor drainage and an absence of rooted vegetation can leave slopes vulnerable to weakness and erosion, leading to ground instability and the possibility of slippage. Anchor Systems (International) Ltd offer cost-effective, practical, designed and engineered solutions for both slope stabilisation and erosion control. Our mechanical anchoring systems are designed for any ground, earth and soil stabilisation associated with geotechnical engineering and securing geotextile and geosynthetic materials into position until vegetation can take effect.
Previous projects for geotechnical applications and erosion control have used our Vulcan Earth Anchors® systems for retaining a wide variety of geotextiles and geosynthetics including meshing, geo-grids, coir matting as well as geo-membranes with our wide range of sizes and accessories. Bespoke solutions and systems are also available if required.
Our geotechnical anchoring systems have been developed to integrate with the majority of geotextile solutions and geofabrics available from all the major manufacturers. These systems can be installed to supplement, combine with or replace existing installations as well being used to stabilise virgin embankments as the only system used. Fast and simple to install, with the ability to provide maximum load capacity immediately whilst allowing the positioning of the geotechnical materials and anchor installation to be carried out simultaneously, achieving instant security, thus, saving time and money on project labour and delivery.
Used with/ Geotextiles
Geogrids
Geocells
Geo-matting
Coir matting
Geo-membranes
Facing materials
Nettings
Landfill membranes
Cellular erosion control
Transition mats
Applications for the Vulcan Geotechnical Anchor
Spoil retention
Slope stabilisation (in use with Vulcan reinforced anchors)
Erosion control
Embankment stabilisation
Landslip prevention
Cliff face stabilisation
Riverbanks
Marine
Landfills
Safeguarding public access, roads and trains and footpaths
Advantages of geotextiles and geosynthetics
Promotes vegetation growth for a sustainable end result
Reduced labour and associated cost savings compared to hard armour installation
Reduces heavy traffic and installation plant necessary for hard armour/concrete processes
Aesthetically appealing and discrete, allows vegetation to take root providing a natural finish as opposed to unattractive traditional concrete methods
Recessed system
Reduces groundworks and maximises use of space
Resilient and durable, our anchors are made from corrosion resistant materials and work with the majority of geofabrics available
Geo-Screw and Bio-Screw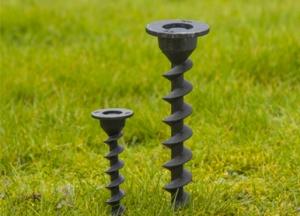 We have recently developed a high load ground anchoring screw which will be launched this year. Designed to hold most types of geotechnical materials to most types of ground with a rapid installation time without the need to purchase extra tools and accessories. This product is designed as a replacement to traditional U pins and pegs that can be awkward to install and often pull out of position. Our Geo-Screw will be available in a range of sizes and be manufactured from both recycled and biodegradable materials.
Benefits of Geo-Screw
Easy installation with universal electric drill (M-10/M-16) no accessory chuck needed
Achieves higher load than competition
Significantly quicker to install compared to conventional ground anchoring pins
Ensures close contact between the earth and matting
Easy to handle
Does not unpin
No need for a separate washer
Available in recycled or biodegradable materials
Cost- effective
Reduced screws required per square metre, reduced ordering quantity
Discrete
Lightweight
Made in Britain