What Is a Vulcan Earth Anchor?
Posted on 20th August 2020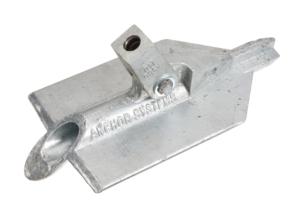 A Vulcan Earth Anchor® is a percussion driven mechanical ground anchor. It can also be referred to as an Earth Anchor or Percussion Anchor.
Vulcan Earth Anchors are used as a cost effective and rapidly installed system to provide a positive force on a verity or projects.
The Vulcan Earth Anchor range was designed by Anchor Systems (International) Ltd as a simple, reliable and cost-effective ground anchoring solution with the ability to provide immediate loading capacities from 1 – 450kN in displaceable ground conditions with extensive applications.

The concept involves a specially designed earth anchor with a larger surface area, attached to high yield tie bars or tendons to suit a variety of conditions, being driven into the ground where it is locked in position. The tensile load is applied, and the exposed end locked off and terminated.
With their ease of use and speed of installation, Vulcan Earth Anchors provide a time and cost saving alternative to more traditional means of anchoring, particularly where tight programme schedules are involved. This combined with the wide range of sizes available means that the Vulcan Earth Anchor has gained recognition across a vast array of applications internationally.
Benefits:
Larger surface area allowing the Vulcan Earth Anchor to achieve the greatest holding capacity in all ground conditions
Rapid installation
Largest range of anchors in the World ranging from 1 – 450kN+
We are the only company globally to manufacture and stock fully stainless-steel systems
Bespoke design available
Huge stock of plant and products with next day delivery available
Made in Britain
If you would like more details on our Vulcan Earth Anchor you can view our brochure or email us.