Improved Protection for Tree Root Balls
Posted on 23rd June 2021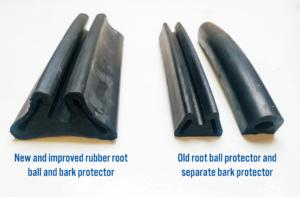 As the manufacturers of the Vulcan Rootball Fixing Kit and Overhead Guying Kit we are always looking at ways to improve our systems to make them better.
The root ball fixing kit gives newly planted root balls and containerised trees all the support they need to withstand any winds or natural lean while they settle into place without the need for any ugly over ground support. They are quick and easy to install and perfect to give that pristine finish.
The overhead guying kit can also be used for new trees planted in areas exposed to extreme winds or it can be used on established trees that are starting to lean over and can be used for trees up to 20 meters in height.
Our latest development has been to improve the design of the rubber root ball protector. We have made the rubber wider overall so it distributes the load of the wire more evenly across the root ball as well as making the centre channel larger so it can be used with different sized wires. This means that it is also able to replace our old bark protectors for the overhead guying kits. The open channel makes the system easier and quicker to put together as there is no need to try and thread the wire through a small hole.
The wider surface area also makes the rubber easier to manipulate into the shape you need and is not as stiff.
You can purchase our root ball fixing and overhead guying kits direct from HERE or FIND OUT MORE on the different systems available.