A New Design Engineer Joins the Team
Posted on 21st July 2020
A big, warm, Anchor Systems welcome to our newest team member, Jonathan.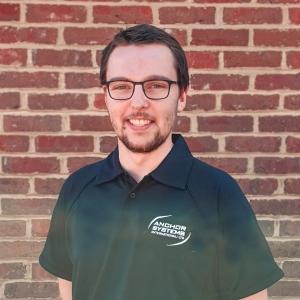 Jonathan is our very own in house CAD Design Engineer and will be a great asset in our fast moving business, being able to turn ideas into concepts with a quick turnaround. This will allow us to offer an even better customer experience and service.
Jonathan joined us at a very strange time, right at the start of lockdown.
In fact, he had his car packed and was on his way to move down to us from Glasgow when the country was put into lockdown and he had to turn around and head back home!
Until the rules were relaxed Jonathan was working from home up in Glasgow before he could travel down to relocate and start work in the office. Even to this day he still hasn't met all of the team but he is settling in well and hopefully normality will resume soon and we can have a proper welcome party all together in one room.
Jonathan graduated last summer from the University of Strathclyde with an MEng degree in Sports Engineering. He has relocated as far away from his home in Glasgow as he possibly could just to join our team as it was just the job opportunity he was looking for.
In his spare time Jonathan is a keen cyclist and enjoys taking part in sports activities and going to the gym.
I think you are going to fit in just fine here Jonathan!