Introducing the Anchor Screw Brochure
Posted on 1st September 2021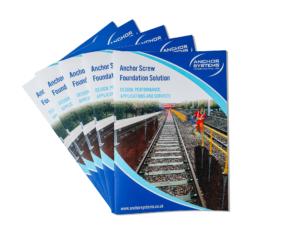 Hot off the press and just landed at Anchor Systems HQ is our brand new Anchor Screw brochure! Download it now.
Our patented Anchor Screw is an easy to install foundation solution that has enhanced environmental benefits compared to it's alternatives.
This system was designed and evolved from the needs of some Network Rail projects that required to improve both the efficiency and sustainability of their standard construction materials and methods.
The Anchor Screw eradicates the need to use concrete and is made in Britain from 100% recycled UK steel. It can also be made with a 100+ year lifespan making it economical as well sustainable.
You can see the system in use in these two project reports:
Hither Green Signalling Renewal Project
Westbourne Park Segregation Barrier Project
Benefits and Features
Speed
Typically installed in under 10 minutes per anchor

Easy to Install
Zero on-track plant or RRV's required as installed with lightweight, handheld equipment

Dust
Zero dust is generated as no cementitious products required
Environmental
Fully reusable and Made in Britain from UK recycled steel
Longevity
Can be designed with 50 or 100+ year lifespans dependant on client requirements

Water and Drying Times


Zero water consumed or drying time required, as no wet trades involved
HAVS
Zero risk as the installation equipment is non-percussive
Noise
Installation is relatively quiet. The installation equipment runs at 80-85db
Versatility
Easily adjustable to guarantee the correct positioning with patented design features
Mess and Waste Materials
Zero mess due to no digging required nor any general wasted materials, which reduce manhours and project risks
You can download the brochure here: Download Now
Or if you would like to book a CPD presentation for you and your team or get your hands on a physical copy then pop us an email: info@anchorsystems.co.uk